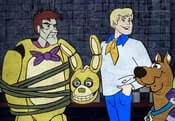 Scooby Doo FNaF FREE GAME · PLAY ONLINE
Scooby Doo FNaF will take players to a familiar location. True fans recognized this place from the first seconds! Can you survive a few nights here and stay alive? You have to be attentive and careful not to fall into the pitted traps of enemies.
They are almost everywhere, and also monitor every step. Although it's up to you to watch them! Explore the territory and find the necessary tips to solve riddles. Only when you complete all the missions, you can get out of here. Check your reflexes!