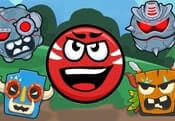 Roller Ball 6 FREE GAME · PLAY ONLINE
In this part of the game you will find cool adventures that will surprise everyone! Today you will go with the main character to conquer new places. This small geometric figure of a round shape moves quickly. It rolls down slopes and climbs up mountains.
It looks funny and seems simple, but it really isn't. Players will have to face different opponents and be very careful. It is better not to meet them because they are dangerous. Complete the level perfectly to get three stars! Receive wreaths!