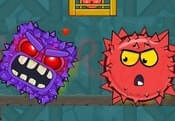 Red Ball Update FREE GAME · PLAY ONLINE
This world is round and no one can change it! But here everyone is in for a surprise no one will like! Opponents have arrived in the kingdom of brave guys. They want to make our planet square and you have to stop them.
There are more than 75 interesting levels in Red Ball Update that are distinguished by their uniqueness. To pass them, players need to collect the maximum number of stars. Be careful not to fall into the trap of enemies and not crash into other obstacles! Show a quick reaction to pass all the tests!