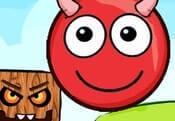 Red Ball 5 FREE GAME · PLAY ONLINE
In Red Ball 5, you will meet the round hero again and set off on a journey! This time, players will visit a magical forest full of dangerous monsters. Everyone knows that this will definitely not scare our hero and he will cope!
You have to complete tasks at each level and collect all the stars. If you meet enemies, it is better to bypass them. In addition, there may be chests that you just need to jump on and collect jewelry. Here you need to be dexterous and attentive to complete missions!