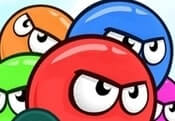 Heroball Adventures FREE GAME · PLAY ONLINE
The beloved red ball has lost all his friends. They were stolen by a monster and locked in terrible iron cages. The main character wants to find them and get together again. Players have to go through a lot of tests to achieve their goals.
There will be many traps in Heroball Adventures that will be a huge challenge, but you have to be very careful. In addition, there will be a huge number of enemies that will prevent you from reaching your comrades. Collect all the stars and complete this responsible mission!