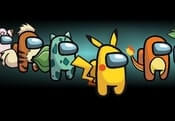 Pokemon Among Us FREE GAME · PLAY ONLINE
This is a mod for a famous game all over the world! It became so popular that fans started making new ones themselves. This time, players will be able to watch round heroes from another universe. They are friendly, love training and have amazing abilities.
But today they have completely different things and you will become witnesses of this. The guys decided to go on an adventure and the ship is ready for this. Everyone is doing missions to support the process. But one of the crew has negative intentions!