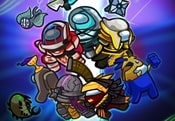 Among Us Destiny 2 FREE GAME · PLAY ONLINE
This is the continuation of space adventures with your favorite characters! In this game you will again go on a journey on a ship. There will be a whole crew, each of whose members has their own tasks.
A huge map will allow you to move around different locations and explore the place. Troubleshoot to ensure safety! Don't forget that one of you is a traitor! His main goal is to kill all the other participants. Be attentive and focused to recognize the enemy and neutralize him. Good luck!