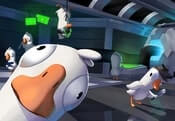 Goose Goose Duck FREE GAME · PLAY ONLINE
In this game, you will see a fairly familiar spaceship. There will be no multi-colored alien creatures, but there will be other heroes. These are birds whose main task is to survive! There is a limited amount of time here, so you must have time to kill all the competitors.
Each player will have their own task that they must complete before the end of the round. Explore a large map on which there are a huge number of rooms and corridors. Visit all places and be very careful not to get killed!