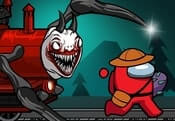 Choo Survival: Impostor Shoot FREE GAME · PLAY ONLINE
Today you have to face a terrible opponent and be able to defeat him! The main characters went back to the space station. They remember that there are several heroes here who are traitors. Their task is to destroy the entire crew, and your task is to collect all the evidence.
In order to win, players will have to use weapons and additional equipment. Be dexterous and attentive so as not to die before the rest! The boss has a huge power and an iron appearance, so do your best! Nothing is impossible!