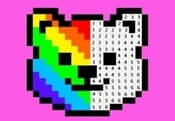 Pixel Color By Number FREE GAME · PLAY ONLINE
This challenge invites you to get rid of stress and express your original side. With a variety of choices of images, Pixel Color By Number offers players a wide range of options. Here everyone can develop their imagination and even reflexes!
It offers a fun and stimulating feeling that is sure to provide hours of entertainment. So why not give it a try and find out how you can use your talents to create beautiful graphic masterpieces? Enjoy this atmosphere and constantly improve your knowledge!