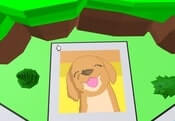 Color by Number Roblox FREE GAME · PLAY ONLINE
This amazing game will help you relax and have a great time! Now a huge popular platform keeps up with the trends! Here, players will be able to go to the field and show everything they are capable of. Each of the participants has its own color.
Move around the territory in a different order to assign it to yourself. It will be very exciting and will cause only positive emotions. Try to relax and trust the situation as well as your creativity! Will you cope with this bright mission?