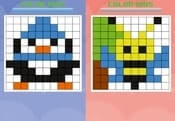 Kindergarten Color by Number FREE GAME · PLAY ONLINE
Kindergarten Color by Number is an exciting entertainment that will let kids get creative and develop their skills. For example, it will help them recognize paint palettes, shapes, and more. Using the outline, little ones can fill in designs and create beautiful works of art.
There are plenty of adorable activities here based on familiar objects and shapes. It will not be difficult, as it may seem at first glance. In such an exciting way, everyone will receive new knowledge and more!