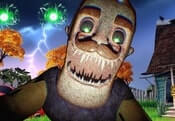 Nicky's Torment FREE GAME · PLAY ONLINE
Nicky's Torment is a mixture of two popular games at once. In this challenge, players will have to sneak into the neighbor's house again. Investigate and find out what secret he keeps! But be careful, because this is his animatronic.
For this reason, this mission will be several times more dangerous! The atmosphere is tense and you want to quickly escape from here! It consists only of iron, so it doesn't smell anything. It will harm you without any problem and will not even regret it. Will you deal with it?