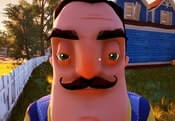 Hello Neighbor Alpha 2 FREE GAME · PLAY ONLINE
This is a story about a creepy man who lives in the house across the street. It seems that he is hiding something and for this reason he almost never goes beyond the boundaries of his yard. In this game, players will have to penetrate into foreign territory and find out the whole truth.
The worst one is waiting for you in the basement, so get here at all costs! Do not forget that the enemy has abilities due to which he can get ahead of your actions. Will you be able to reach the target and reveal all its secrets?