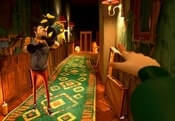 Hello Neighbor 2 Multiplayer FREE GAME · PLAY ONLINE
Hello Neighbour 2 Multiplayer tells the story of a journalist. The main character has come to the city to find out the truth about the lives of its inhabitants. Every resident has a secret that no one should know.
The most serious problem, however, is solving the case of the terrifying madman who lives across the street. Interrogate him, collect evidence and much more! Be smart and protect this place! Solve challenging puzzles and look for clues to help you achieve your goal!