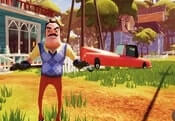 Hello Neighbor 4 FREE GAME · PLAY ONLINE
This is a new part of the game in which you have to find out the continuation of all the secrets! After a strange man settled in the house opposite, the life of the main character changed. You have to secretly enter his territory to find out about what he hides.
The most terrible thing is in the basement and the maniac will try to prevent you from getting there. Solve the puzzles and go through dangerous traps to avoid getting caught in his cage! All rooms are under surveillance cameras, so control your every step!