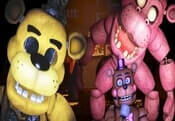 New Nights At Freddys FREE GAME · PLAY ONLINE
In this game, players will take control of a little boy. He went to the infamous pizza restaurant. They say that if you see an animatronic here, you will die! In this version, participants will witness creepy stories and events. They will scare even those with strong nerves!
Today one of the main monsters came to the guy's defense and will help him. You have to try hard to get good results and survive this atmosphere. Adapt and understand which route is the most optimal! Good luck!