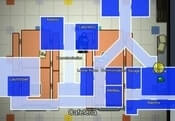 Mira HQ FREE GAME · PLAY ONLINE
In this game, players will be able to test their deduction. Prepare your ship for a fantastic flight into space! All crew members will be busy with business for a successful trip. But within the team there are one or even several traitors.
They will pretend that they are doing the necessary work. But in fact, they are doing nasty things and want to kill all the participants. In this mod, you can take advantage of a new map that will surprise everyone. It will allow you to explore new places where you can have fun!