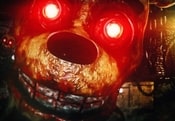 Locked In Sewer FREE GAME · PLAY ONLINE
There seems to be some trouble in this huge building. Players will be specialists who can solve this problem. Head to the basement and start this long journey. The game is surrounded by darkness, which makes the atmosphere even more tense.
Will you deal with your fears or run away? Be careful because monsters live here. They have already started hunting you and can attack at the most inopportune moment. Pay attention to the details that glow in blue, this is your chance to be saved!