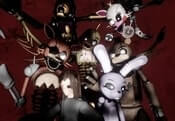 FNAF Witness FREE GAME · PLAY ONLINE
FNAF Witness is the version that will drive you crazy. Here everyone will begin to doubt their strengths and abilities. Will you be able to survive and get out of this place? Players will once again visit a creepy location where laughter and fun can be heard during the day.
But at night, the animatronics stop being kind and become real killers. The main character will have to spend time here until the morning and escape. Perhaps you will get help from someone you didn't expect! Have patience and calm!