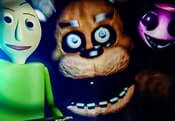 FNAF Ultimate Indie Nights FREE GAME · PLAY ONLINE
In this game you have to visit the mysterious office again. Before starting the main process, players can choose characters. After that, head to your workplace and prepare for the horror! Competitors must keep an eye on the two side doors and cameras.
They will show the monsters and their location. Be careful to always be aware of where they are. Use some tools to defend yourself and survive until the morning! This task seems overwhelming, but you should hope for the best! Good luck!