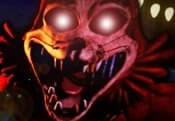 FNAF Twisted Carnival FREE GAME · PLAY ONLINE
The events of the game unfold around a man who works in an amusement park. It all started when the children were found dead after having fun. This Ferris wheel became a local topic of discussion. The guard has access to every place on the territory, but is this good?
This seems useful before night falls. At this time, evil animatronics go hunting. Don't become their next victim! Be vulnerable and constantly come up with new ways to avoid bad things. Perhaps someday you will find out the whole truth!