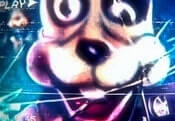 FNAF The Case of Edward Morris FREE GAME · PLAY ONLINE
FNAF The Case of Edward Morris is a place that will cause fear! Get ready to get goosebumps! In this challenge, fans will have to go to the infamous cafe. Iron creatures live here and happily amuse little children.
But when the restaurant is closed, they begin a dangerous hunt. Take the role of a security guard who has to spend the whole night here. Will you be able to complete all the assigned tasks or will you be afraid? Monsters can come out at any minute, so be prepared for jump scares!