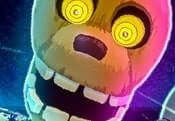 FNaF Mechanism FREE GAME · PLAY ONLINE
Welcome to the territory of evil talismans! As always, the main character will visit a creepy location from which he will need to get out. The huge building has many secrets, but they are all guarded by creepy monsters.
In FNaF Mechanism, fans will be able to watch new creatures that were not in the previous parts. Be careful not to meet them, because the process will be over in no time. Use your motivation, courage and agility to overcome all obstacles on the way! It will be very difficult and stressful!