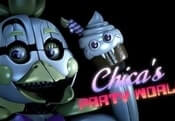 FNAF Chicas Party World FREE GAME · PLAY ONLINE
In this mini-challenge the player will control one of the horror heroes. You have to collect four cupcakes and bring them to four children in blue clothes. When it is delivered to each of them, they will be delighted.
Also, their clothes will change to green, which will mean a positive result. Once all the little ones have received the desired delicacy, a door will appear on the lower level. Click on this to complete one of the levels in FNAF Chicas Party World! You have to be careful so as not to make a mistake!