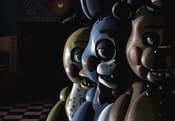 FNAF 2 FREE GAME · PLAY ONLINE
Welcome to a popular place for children and their parents! This is a pizzeria in which animatronics live and amuse all visitors. But this happens only during the day, and at night they go hunting. In this version of the game, the previous guard left to work the day shift.
For this reason, the players will take his place and test how strong their nerves are. Monsters will try to enter your office, but don't let that happen! This time fans will have a huge toy head with which to trick the enemy.