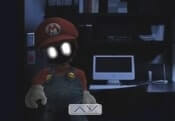 Five Nights at Wario's FREE GAME · PLAY ONLINE
The plot of the game is about a famous factory. She was popular many years ago, but things have changed. This happened after the director and his company disappeared without a trace. Now the building stood unattended until other owners bought it.
In this challenge you will be hired as an employee who guards the building. While repairs are underway, you will guard the area. Will you be able to stay here for a long time or at least survive until the morning? Protect yourself and don't get caught by the monsters!