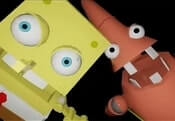 Five Nights at the Krusty Krab FREE GAME · PLAY ONLINE
Five Nights at the Krusty Krab is a cool mod based on the famous challenge. Here, fear will overcome you every second! In the story, Mr. Krabs opened a new restaurant. He fired all the employees and hired copies of them.
You know that he is stingy, so he decided to save money. Also, a manager and a security guard will work here, the role of which you will take. Everything was fine until the evening came. Strange iron creatures seem to have gone crazy! Now the players have to survive this mission!