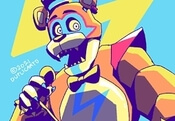 Five Nights At Paint FREE GAME · PLAY ONLINE
In this game, participants will once again plunge into the atmosphere of fear. Today you can visit a new place where you will meet animatronics. They are completely broken and therefore do not follow their movements.
In a completely random way, they will be able to harm you, even if they did not want to. You must take the role of a guard and spend time here until the morning. The main task is to survive and not fall into the trap of monsters! Follow the cameras where they are in order not to meet them.