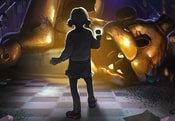 Five Nights at Freddy's: Security Breach Ruin FREE GAME · PLAY ONLINE
Welcome to the mod for the famous game! This time the participants will visit a pizzeria where terrible monsters live. These are huge iron creatures that are too dangerous for this world. Players will control a child who will have to get out of here as soon as possible.
Can you spend some time here and not die? Follow the cameras for the location of enemies and do not get caught in their eyes! Collect the necessary items and use them for the necessary purposes! Being always on the alert is the key to success here!