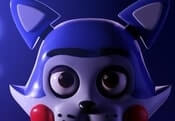 Five Nights at Candy's FREE GAME · PLAY ONLINE
The famous pizzeria went bankrupt and now it's time for a new story! This game is a continuation of the original version. Players will have to become a security guard for a couple of days. Visit the sinister building to keep order inside.
The territory is inhabited by a huge number of monsters. Some you are already quite familiar with, but there are also some new ones. You are not allowed to meet them, so watch the doors carefully. Close them in time so that a tragedy does not happen!