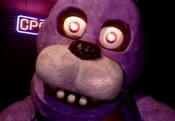 Fazbear Nights FREE GAME · PLAY ONLINE
This is another version where fans will visit a mysterious restaurant. There are several updates that will help you complete missions. You have power, but it's limited, so use it wisely! In Fazbear Nights, players will try to survive until the morning of each day.
The monsters that live in this area are full of aggression and hatred. They are not happy about your presence and are ready to kill you at the first opportunity. Follow the cameras where they are and do not meet them! Close doors and ventilation!