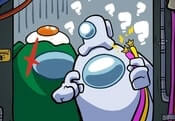 Among Us: Crewmate Edition FREE GAME · PLAY ONLINE
The spaceship is flying home and everything seems to be going according to plan. All employees do their duties, except for one. The traitor pretends to be on the team, but it's not true! He's trying to set up traps for the entire crew and kill everyone!
The impostor will be quiet and not arouse suspicion, but you must bring him to clean water! After the news that there is a dead person appears on the screen, a discussion will begin. Decide with your team who the detractor is! What will you do if it is you in the game?