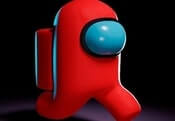 Among Us 3D FREE GAME · PLAY ONLINE
Now your favorite characters are even closer! In Among Us 3D, players will be able to return to the spaceship again. Preparations for the flight are in full swing and you need to help the others! Missions will be different for everyone, so take it responsibly.
Explore a large map to visit all locations. Be attentive to the rest of the crew, because there is a traitor there. He will try to interfere with the plans of the team! In addition, he will kill other participants while no one is watching.