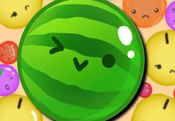 Suika Game FREE GAME · PLAY ONLINE
Suika Game is a great way to have fun and test your logical abilities. Here players will visit a field on which a large transparent container is located. The main task of users is to place fruit inside. They are all different diameters and shapes, so you need to be very careful.
Don't let items fall out of the box! The largest is the watermelon, but it is not so easy to get. Connect identical objects to get new types! This process will force you to reason and adopt better skills! Good luck!