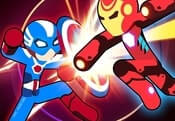 Stickman Superhero FREE GAME · PLAY ONLINE
Stickman Superhero is a character that has unique abilities. He can jump high, run fast, and even shoot a laser from his eyes. Will all this help him fight opponents? There are a lot of people in the city who do not like the hero.
He decides to go one on one with them and check who is stronger. Help the guy cope and prove that he is the leader! In this challenge you will be able to fight with criminals, policemen and bosses. Upgrade weapons, abilities and buy new skins! All this will help the hero to become invincible!