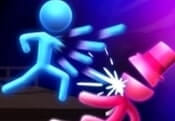 Stick It to the Stickman FREE GAME · PLAY ONLINE
The main character was a good candidate for this position. What a shame that he has a sufficient number of competitors. The hero does not want to give up and therefore is ready to fight them for his place.
In Stick It to the Stickman, you have to go straight to the main office of the director, but at the same time defeat the opponents. Move quickly and confidently, and also keep an eye on the sides to repel attacks! Use all your strength and power to strike! Here you also need to come up with the right strategy!