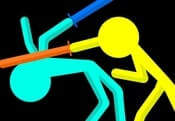 Stickman Clash FREE GAME · PLAY ONLINE
Stickman Clash is perfect for those who love to fight in teams. Here you can unite with your comrades and find out which of you is stronger! Each of you will have your own skinny hero who is ready to attack. Get on the field and start swinging your fists and legs!
In addition, over time, you will be able to open items for protection. This will help inflict more powerful damage to opponents and get victory. Demonstrate your dexterity and quick reaction to knock down your enemies. It will be a funny war!