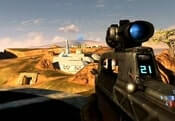 Standoff Halo 3 FREE GAME · PLAY ONLINE
In this game you will once again immerse yourself into the atmosphere of battle. A new adventure with weapons awaits your team! By the way, there are a sufficient number of them, so you can try everything. This time, players will visit a new map with a beautiful location.
It is located on an island that is surrounded by cliffs. Terrain is difficult, so you need to get acquainted with it first. Get to the bases, which are located in different parts of the map. Be careful and use only the best weapons!