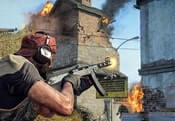 COD Standoff FREE GAME · PLAY ONLINE
This game is for those who love adrenaline and action! Here you can assemble your own team and arrange a firefight. A huge selection of weapons gives you the opportunity to win in any situation. Here it is important to be accurate and have a clear plan of action.
Compete with players from all over the world and show them what you can do. It's a great way to improve your skills and gain new skills. Use more than 20 kinds of guns and make a unique design. Try the survival mode and two more to be surprised!