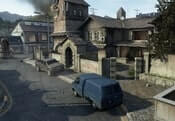 Standoff – Black Ops 2 FREE GAME · PLAY ONLINE
Standoff – Black Ops 2 is a sequel to the action that everyone is excited about! Here players will go to cities or even secret laboratories to fight. There are too many enemies, so you have to be always on guard!
There is a large selection of weapons that are available from the beginning. Choose the needed one and start the process. Create an unbeatable team and constantly improve your skills. You can also make a cool design for your gun by adding stickers and more. Become a match professional!