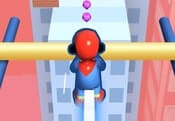 Roof Rails FREE GAME · PLAY ONLINE
Roof Rails is created for those who love extremes! Here players will experience adrenaline and other sensations that will bring pleasure. You will control a character who has a huge wooden stick. With this, he will cling to the train tracks to move forward.
The main task is to get to the end point! Each level will become more difficult, and there will be more obstacles. Will you be able to handle the controls and not get confused at great heights? Collect items that will complete the mission!