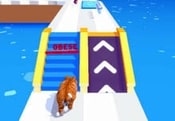 Pet Trainer Duel FREE GAME · PLAY ONLINE
In this game, players will have to train animals. They will be of various types and with different characteristics. You have to teach them to pass through the obstacles that are located on the road. You are doing exercises that are physically demanding.
In addition, creatures can not absorb harmful food, otherwise they will not get to the finish line. Be nimble so you don't fall off the treadmill or ramps! There will also be other tasks that will help your hero to be in amazing shape.