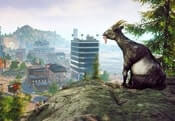 New Goat Simulator FREE GAME · PLAY ONLINE
How about going to town as an animal with horns? Using the map, you can choose a suitable location and visit it. Try to sneak into someone else's house and break all the dishes, furniture, windows and more!
Also go out on the roads and stop the cars to turn them into a mountain of metal! Come up with a way to get as many points as possible and don't think that you won't succeed. If you make an effort in this challenge, anything is possible! New Goat Simulator is a great way to get rid of stress!