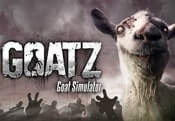 Goat Simulator Goatz FREE GAME · PLAY ONLINE
In this game, players will be able to control a horned animal. Head to the city full of opportunities and don't miss any of them! Here the main task is to create crazy adventures that will surprise everyone. Climb into the pool, run out onto the roadway and interfere with the cars!
What is your fantasy capable of? There are no rules and restrictions, so do whatever comes to your mind! This is a cool process that will be remembered for a long time! No one wants to leave until they've done all the work.