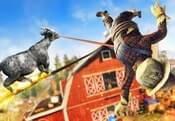 Goat Simulator 2 FREE GAME · PLAY ONLINE
It's time to relax and that's what this game is for! Here, players will be able to try on the role of a horned animal and go on a crazy journey. Despite the fact that there is only one map, there are many fascinating places on it.
Explore each of them to find interesting locations and activities. Go to the pool, go to the mountains, crash cars and much more! Come up with an ingenious plan to destroy this or that thing in order to get as many points as possible. Fight for the title of crazy hero and go to the top!