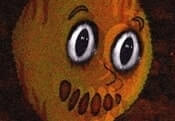 Ms.LemonS Mobile FREE GAME · PLAY ONLINE
Citrus wants to test your knowledge! In Ms.LemonS Mobile, players will be able to have a great time. The main character puts on glasses and thinks that he is the smartest in this world. You have to answer all the questions that she has prepared.
They will be on different topics, so you can solve interesting missions. Show off your skills in math, geometry, logic and more! Every time you make a mistake, it brings you closer to horror! It's better not to know how evil a teacher can be! Good luck!