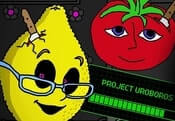 Ms.LemonS 2 FREE GAME · PLAY ONLINE
Today you will go to a place that looks like a school. There you will be met by a bizarre citrus in the role of a teacher. She wants to know how erudite you are and has prepared assignments. They won't be selectable, so just answer. Players will have a time limit, so hurry up!
Remember that in the game it is better not to make mistakes, otherwise the character will become very angry. If you see the number 10, then get ready for the most dangerous round! The appearance of the hero will not change for the better!