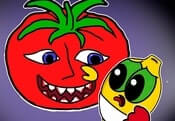 Mr Tomatos And Ms Lemons FREE GAME · PLAY ONLINE
In this game, players will be able to meet their favorite characters. They are completely different, but something still unites them! Vegetable and citrus want to test your patience and concentration. They love to make players nervous and react quickly in stressful situations.
Try to complete their tasks to become a master and a winner! It won't be as easy as it looks at the beginning of the process. Each time the tasks will become more difficult, and less time! Don't let the heroes become aggressive!