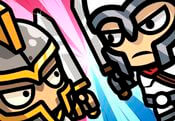 MiniBattles – 2 3 4 5 6 Player FREE GAME · PLAY ONLINE
If you have a lot of comrades and don't know what to do, then welcome! This game can be played by up to six users. Each of them will have their own button on the keyboard with which they will control the heroes.
You can go to exciting locations where you can organize races. Start the race and find out which of you is the fastest and most agile! Also try on the role of an archer and become an experienced warrior! Or do you want to fight your competitors with tanks? Football and other sports are also here!